King Calas is the main enemy in Doraleous and Associates.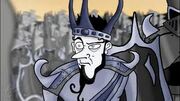 Appearance
Edit
King Calas has very white skin and a twisted beard with a crown with 3 long points.
Personality
Edit
King Calas gets mad very often and swears alot. He calls Doraleous Dorlingus.
His first appearance was in The Wealtards in which he had a massive army and threatening to destroy or take the Wealtards. When Neebs killed Titanus (which Calas had) and lost the Wealtard army he got mad at Doraleous and has been trying to kill him in many ways including hiding in a giant wooden horse, aiming a crossbow at him during a play and setting out animal traps.
"THIS IS BULLSHIT!"
You bich!
Community content is available under
CC-BY-SA
unless otherwise noted.